My oh my, what an exciting three weeks it has been...and what an even more exciting three weeks lie ahead!
After finishing the last thesis film I produced at Florida State a few weeks ago (Mãe, written and directed by Ellen Marmol) I threw it into overdrive and hopped on a plane to OUTShine, Miami's LGBTQ film festival where Heads Up was screening the day after we wrapped Ellen's film. After a few days falling in love with the not-so-southern-city of Miami, I jumped on a plane to Charlotte, North Carolina for the Reel Out LGBTQ Film Festival that is put on by Charlotte Pride. I met some incredible humans hard at work making sure LGBTQ films were thriving in the southern US.
A few graduations and several days spent on a super-top-secret upcoming project (more planes, trains, and automobiles!), I jumped on another series of flights and layovers that started on Saturday, May 11 at 9:45am, finally arriving on Sunday, May 12 around 11:00am. My final destination? The Festival de Cannes!
It still hasn't hit me that I'm sitting at the epicenter of one of the world's largest film markets with a golden ticket. A few months ago, I came to the conclusion that there was no possibility at all of me being able to afford the American Pavilion Student Film & Business Program. This amazing program provides students with the opportunity to go work at Cannes and reap the benefits of the festival once they punch out for the day.
I was contacted by Michael Bremer, head honcho at the American Pavilion Student Programs, inquiring about why I hadn't completed my application. Due to my financial need and being a member of the LGBTQ community, he told me I was eligible for a new opportunity that would offer financial assistance. Several phone calls later, I found out that I was one of the two recipients of the Colin Higgins Ambassador Scholarship. This covered my entire cost of coming to work in the American Pavilion during the festival (roughly $4,000.) After Reb Braddock, the Dean of the FSU College of Motion Picture Arts, agreed to fund my airfare, I started to realize that Cannes was no longer an impossible venture.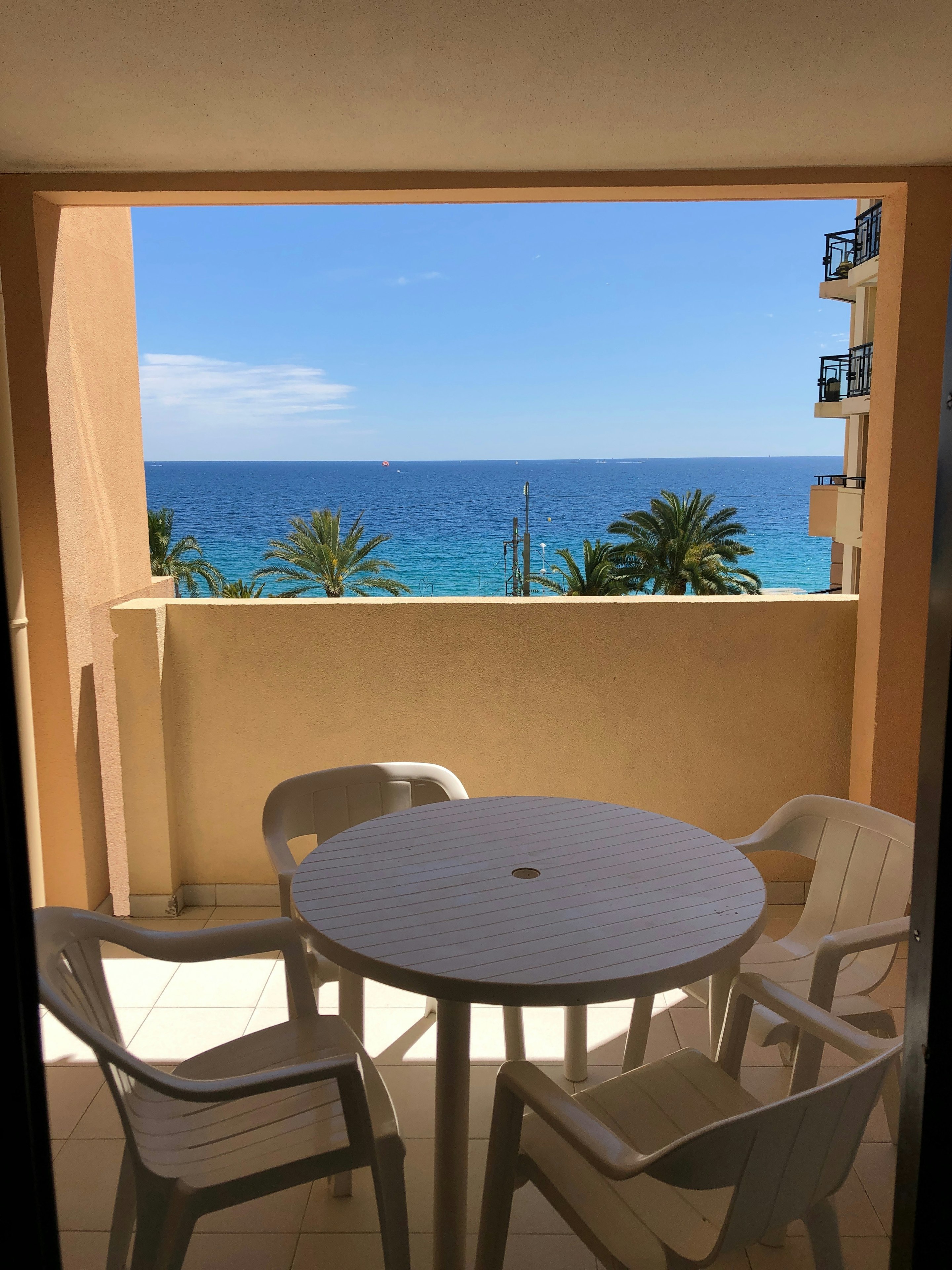 As I look out over my balcony at the sand and beautiful blue water in the distance, I am still slightly in disbelief. How does a kid from Small Town, Alabama make it to Cannes? Many thanks to all of the fantastic people involved with the Colin Higgins Foundation for making me one of the two recipients of this inaugural award. None of this would have been possible without you all. Another enormous thanks to Reb and the College of Motion Picture Arts at FSU for ensuring I had everything I needed to get here.
I invite everyone to join me as I post updates, photos, and more from my time at this incredible festival in this breathtaking place.
Je vous aime tous!