As I sit in the airport waiting for my Chicago-style hotdog, I'm shaking my head at the fact that I thought I'd update my blog daily. I've always been bad at journals, and things at the Festival de Cannes just sped up as we went. Now, where were we...
After four full days of attending panels, watching movies, brewing coffee, and networking with professionals in the film industry, it all led up to the screening of Heads Up. Ellen Marmol, the DP of the film and director of two of the films I produced this spring, arrived on Saturday to join me on my Cannes adventures

During one of my shifts, I got to come face to face with Judy McLane and Cheryl Allison. Cheryl was the director of Hiding in Daylight, one of the shorts that screened alongside Heads Up on Sunday. Judy stars in the film—more importantly, she was in one of the most influential LGBTQ+ films I watched as a young teenager, Were the World Mine. To say I had a minor fangirl moment was an understatement...
I also met Trevor Floyd, another one of the students working at the American Pavilion, and after I saw his incredible makeup, I decided to break out of my comfort-zone and go glam for the queer functions. Trevor did a phenomenal job on my face for the Emerging Filmmaker screening. Sunday afternoon, Ellen, Kaymen, and I sat through some of the most incredible LGBTQ+ pieces I've seen in awhile. Afterwards, we got to network with the filmmakers. My soul as a queer filmmaker was refueled. I can't wait to work beside all of these amazing creatives.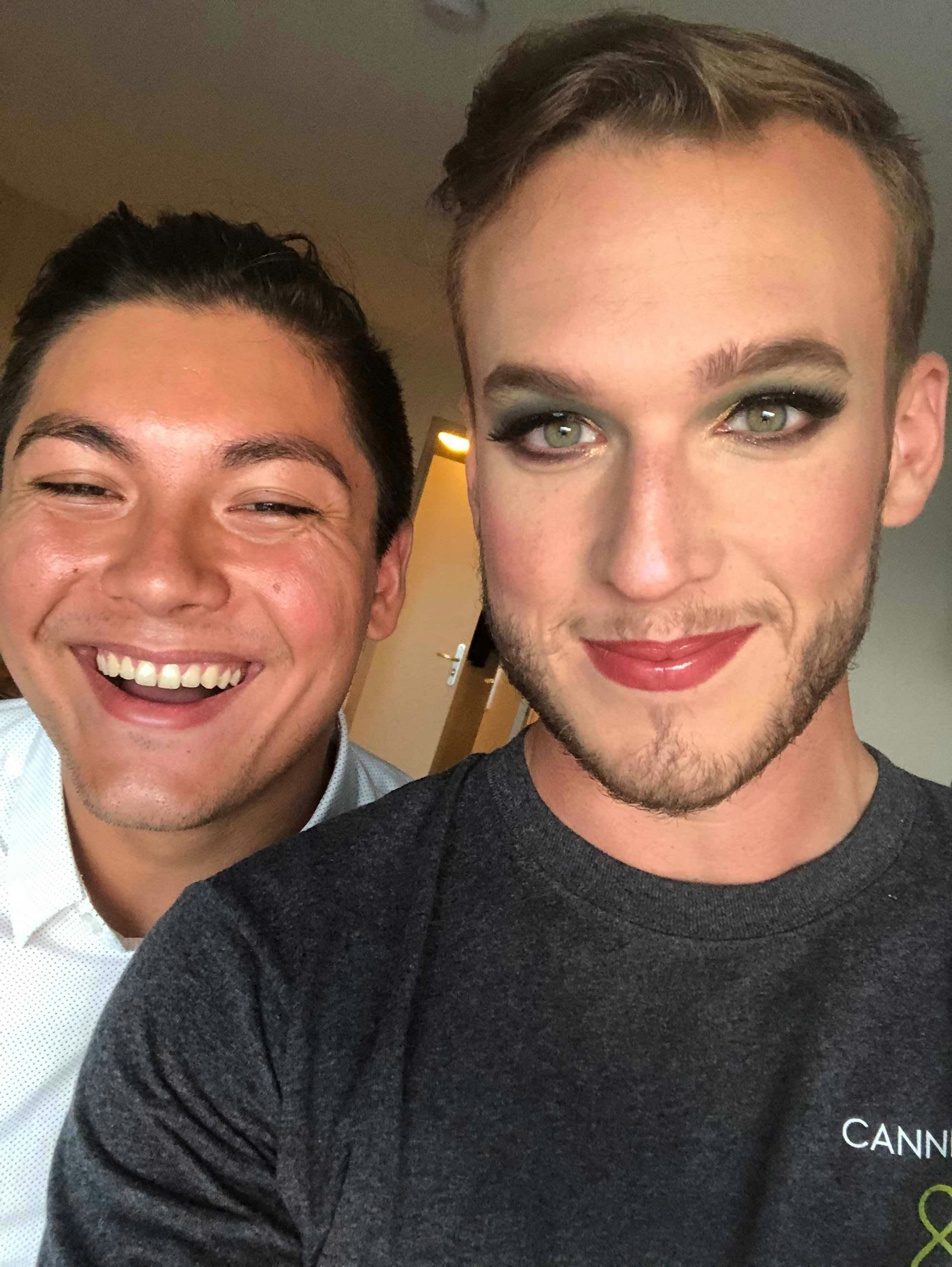 After Sunday's events, Monday was a pretty normal day (as normal as normal can be during the festival) that led us to Tuesday—the Queer Night Party! Trevor did my makeup again (another FABULOUS job) and Cinderella was off to the gayest ball you've ever seen…
A few days prior on one of my first shifts as a barista, a girl had come through the line with a yellow pair of earrings. They were wooden, yellow, and spelled out "Queen." It was love at first sight. Jokingly, I asked the girl to borrow them. Before I could stop her, she was taking them off and handing them to me. Now I really was Cinderella…
Kaymen and I went to Zara to buy a new top that would match the magical ear decor, and the finished product was a pretty retro, European dream. Needless to say, I got many comments on the cheap wooden trinkets hanging from my earlobes all night long. The little tent on the sand that is American Pavilion became an enormous dancefloor and queer haven for everyone. I felt right at home.
The rest of the festival is a bit of a blur to me. I was trying to meet and network with as many of the 200+ AmPav students from around the world, all the while collecting business cards like it was a trading card game that I was desperately trying to win. I was also filming a mini-documentary to chronicle my time in Cannes for the Colin Higgins Foundation as well (that footage coming soon!) That, mixed with trying to soak up as much of the scenery and social atmosphere as I possibly could, left us with lots of late nights and early mornings.
One of my favorite memories from the trip (besides the magic earrings that still haven't found their way to their owner…) were leaving the Queer Night Party for Club 7, a little gay bar in the city that was smaller than some of the smallest ones that I've seen in the south. I left some damage to my ears to greet the sun as I went to bed. Of course, I'm sniffling now because of the lack of rest (or general nutrients…), but what a time.
The other was doing an impromptu photoshoot with San, another AmPav'r, Ellen, and Will Stead, a student from FSU who's documentary screened in another Emerging Filmmaker showcase at the pavilion. We spent the afternoon adventuring up the hill of the city where an old, brick church stands, overlooking all of southern France. We climbed all over some of the rocks that jutted out of the narrow beach and got some incredible shots. It took me back to my primal love of all things camera…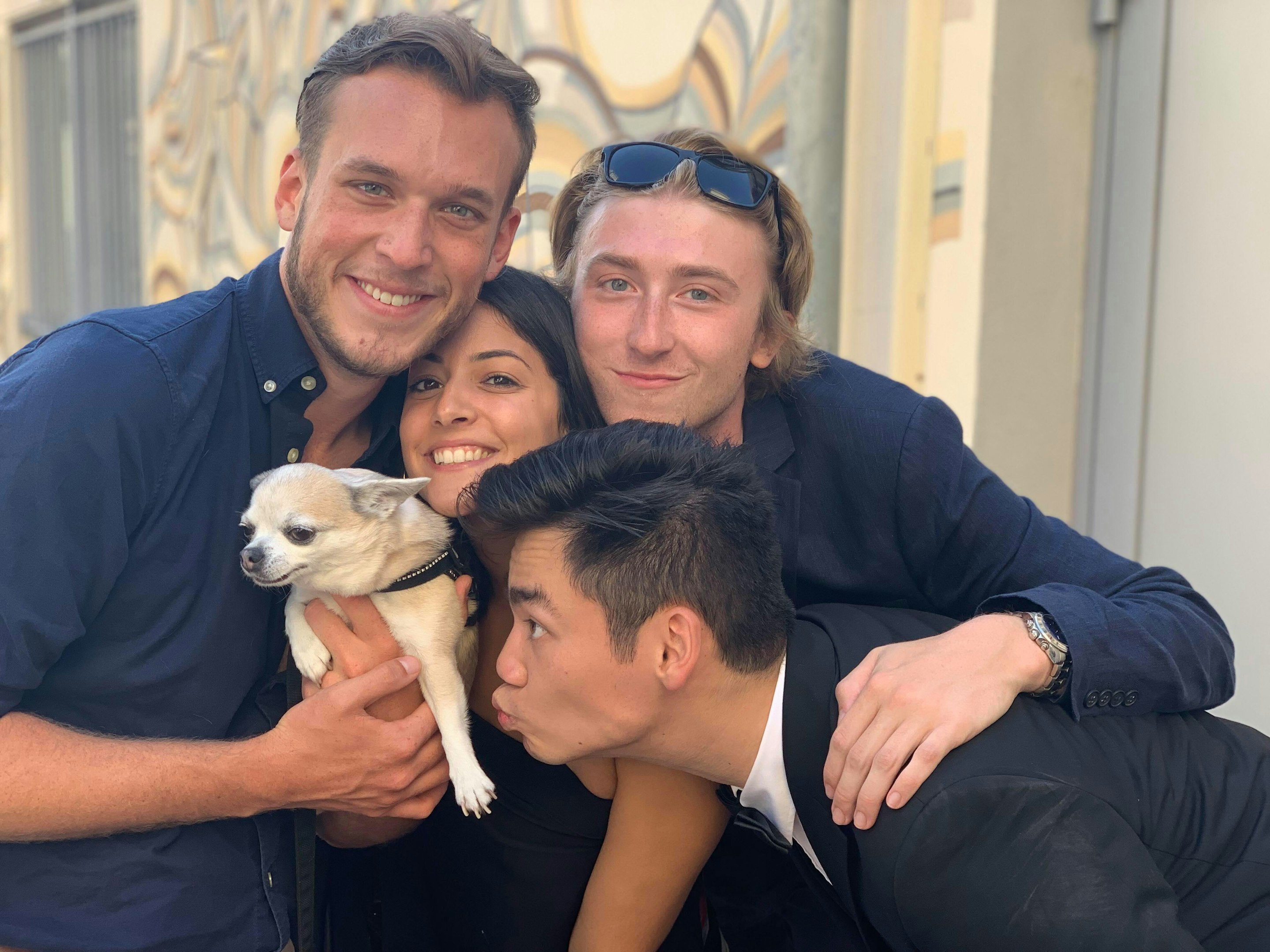 As we piled on the bus this morning, it seemed like two weeks went by faster than the blink of an eye. I have many business cards to sort through, lots of ideas to put down on paper, and homework to catch up on. Harold and Maude and The Best Little Whorehouse in Texas are cued up for my journey back to Atlanta, then finally my bed at Mom & Dad's.
A million thanks to the Colin Higgins Foundation, everyone who followed along for the festival, and all those who reached out about Heads Up and my HIV status. Another post with more information specifically regarding all of that is coming soon. For now, bonne nuit!